A personal boxing trainer can provide you with a customized workout plan that is designed specifically for your needs and abilities. They can also help you to improve your technique so that you can become a better boxer. In addition, a personal boxing trainer can provide you with support and motivation, which is essential when trying to stick to a fitness routine.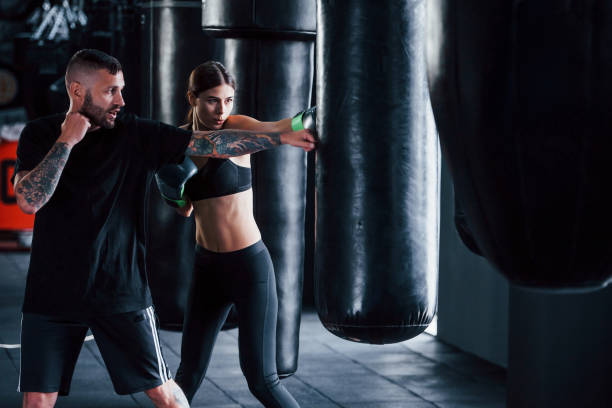 When it comes to finding the right personal boxing trainer, there are a few key things you should look for.
Experience
First and foremost, you want to find someone who has experience training boxers. They should also be able to tailor their training program to your specific needs and abilities. 
Experience is important, as a trainer who has worked with boxers before will be able to better understand your needs and help you improve your skills.
Ask about their coaching experience and how many boxers they have worked with. It's also important to find out what kind of results they have been able to achieve with their former clients.
Licensed and Insured
Additionally, you'll want to make sure that the trainer is certified by a reputable organization such as the National Boxing Association (NBA) or the United States Boxing Association (USBA).
Certification is important because it ensures that the trainer has been properly trained and is knowledgeable in the sport
Make sure that the trainer is licensed and insured. This will ensure that you are in good hands and that if any injuries occur, you will be covered.
Trainers Approach
Be sure to ask about the trainer's approach to coaching and training. Do they emphasize technique over intensity? Are they willing to work with you to create a program that fits your needs and abilities? These are important questions to ask, as they will help you determine if the trainer is a good fit for you.
Cost of Training
Another important consideration is the cost of training. Personal boxing training can be expensive, so it's important to find someone who is within your budget.
Make sure you get a breakdown of all the costs involved, including registration fees, monthly dues, and any equipment or uniforms you may need to purchase. You should also ask about any discounts or special offers that may be available.
Rates vary, so it's important to find one that fits into your budget.
Comfortability
You'll want to meet with the trainer in person and get a sense of whether or not you'll be able to work well with them. Trust your gut instinct; if something doesn't feel right, it probably isn't.
Find a trainer who is compatible with your personality. Some people work best with a strict, no-nonsense trainer, while others prefer someone who is more laid back. It's important to find someone with who you feel comfortable working.
This will help ensure that you can stick with the program and achieve your fitness goals.
Ask for References
Be sure to ask for references from past clients. This will give you a good idea of what to expect from your trainer and whether he or she is the right fit for you.
Ask for Recommendations
Now that you understand what to look for in a personal boxing trainer, it's time to find one! Be sure to ask around for recommendations! You can ask your friends and family if they know any personal trainers who specialize in boxing, or you can search online.
Finding the right personal boxing trainer can be a challenge, but it's worth it when you find the perfect match. By following these tips, you are sure to find someone who can help you achieve your fitness goals. Try to check on Clayton personal trainer. Good luck!
What To Look For In Hiring A Personal Boxing Trainer