What Is Wedding Bonbonniere?
Wedding bonbonniere are small gifts that are given to guests as a way of thanking them for attending the wedding. They are usually filled with confectionery, but can also include other items such as candles or keyrings. The contents of the bonbonniere will vary depending on the couple's budget and preference, but they should always be chosen with care to ensure that they are meaningful and appreciated by the guests.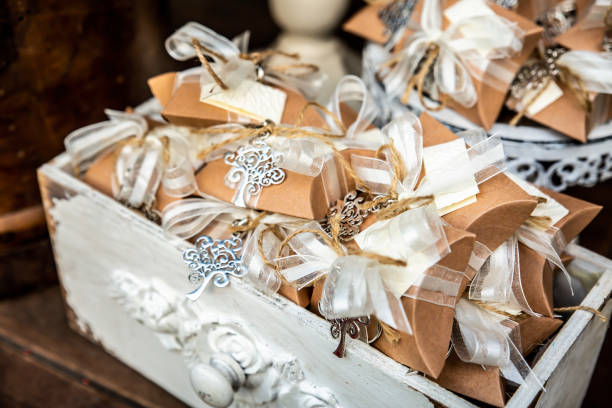 They are often given in addition to other wedding favours, such as engraved champagne flutes or picture frames. While bonbonniere is not required, they are a nice touch that can make your wedding guests feel appreciated.
Things To Keep In Mind In Choosing A Wedding Bonbonniere
When it comes to choosing bonbonniere, the sky is the limit. You can get creative and choose something that fits your theme or style, or you can go with something more classic and timeless. There are no set rules when it comes to wedding bonbonniere, so you can have fun with it!
When it comes to choosing a wedding bonbonniere, there are a few things to keep in mind.
1. Decide What Type Of Gift
Firstly, you need to decide what type of gift you would like to give. Do you want something practical that your guests can use or something more sentimental that will serve as a memento of your special day?
2. Choose A Style That Fits With Your Wedding Theme
Once you have decided on the type of gift, you need to choose a style that fits your wedding theme and overall aesthetic. For example, if you are having a rustic-themed wedding, you might want to opt for a bonbonniere that is made from natural materials such as wood or jute. Alternatively, if you are having a more formal affair, you might prefer something more delicate and elegant, such as porcelain or crystal bonbonniere.
3. Select Gifts That Are Appropriate To Your Guests
Once you have chosen the style of bonbonniere you would like, it is important to select gifts that are appropriate for your guests. If you are inviting young children to your wedding, it is best to avoid anything too fragile or breakable. Instead, opt for gifts that are fun and age-appropriate, such as stickers or small toys.
For older guests, you might want to consider giving them something more practical, such as a key ring or bottle opener. Whatever you choose, make sure that the gifts you give are of good quality and will be enjoyed by your guests.
Options For Wedding Bonbonniere
1. Edible Treats
One popular option for bonbonniere is edible treats. This could be anything from chocolates to cookies to candies. If you choose this option, be sure to package the treats nicely so they look appealing and elegant.
2. Miniature Bottles Of Alcohol
Another popular option is miniature bottles of alcohol. This is a great choice for guests who enjoy a drink or two!
If you're on a budget, there are plenty of affordable bonbonniere options out there. You can find many items at your local dollar store or discount store. Just be sure to avoid anything too cheap or tacky looking – you want your guests to appreciate the thoughtfulness of the gift, not be turned off by it!
Bonbonniere doesn't have to be expensive or elaborate to be appreciated. Sometimes, the simplest gifts are the best. A heartfelt thank you card or a beautiful handmade gift can go a long way! Whatever you choose, be sure to put some thought into it and choose something that your guests will love and appreciate.
A wedding bonbonniere is a thoughtful and lovely way to show your appreciation for your guests. With a little creativity, you can find the perfect option to fit your budget and style. Don't be afraid to get creative – your guests will surely appreciate the thoughtfulness of the gesture! For wedding bonbonniere Melbourne, just click it. 
Aside from wedding bonbonniere, you will also look for wedding photographers to document your big day. Check out wedding photographers in Santa Barbara.
Few Things You Need To Know About Wedding Bonbonniere